Go therefore and make disciples of all nations
The WEBC Missions Team was organized in effort to lead the church in its missions effort. This ministry is a "whosoever will" ministry meaning that anyone with a heart for missions is welcome to serve on the Missions Team. Our Missions Team has been delegated the responsibility of establishing specific missions goals for special missions offerings and plans to increase the goals at a rate of 10% annually, trusting that God will meet those goals through His faithful people.
The Missions Team oversees the various missions efforts of the church and also plans local and stateside missions events, North American Missions trips, and international missions trips. As WEBC develops a heart for missions, the missions team will plan both small and large missions opportunities to impact the kingdom of God.
APPALACHIAN CHRISTMAS OUTREACH
The Appalachian Coalfields Ministry, sponsored by Baptists on Mission (NCBM), seeks to meet physical and spiritual needs of people living in the Appalachian Area. Working with scores of ministry centers and small churches in five Appalachian states, we help mobilize volunteers and resources to meet needs. One of the greatest ministry needs in this area occurs around Christmastime. NCBM is calling on churches statewide to respond to this need through
Appalachian Christmas Outreach 2021
.
Our church will be filling backpacks to be delivered to the Appalachian children.
Our church goal is 80 backpacks!Below is a list of items that we are collecting for backpacks. Please turn in items no later than Sunday, October 17! Items can be placed in the specially marked collection boxes located in each vestibule or the welcome center/coffee bar area. Monetary donations are also accepted!
NEW Warm Winter Clothing - including a winter cap, gloves, scarf
NEW Age-Appropriate non-breakable toys (no toy weapons, please!) - Ex. small cars, balls, dolls, small stuffed animals, puzzles, jump rope, sidewalk chalk, card games, legos, etc. For oldest age group (15-17), substitute an appropriate item instead of a toy, such as, a flashlight, small thermos, light blanket, earbuds, small tool kits, fishing gear, books, hunting & fishing magazines for boys; jewelry, books, skin care products, hair accessories, small travel-sized hair dryer, etc. for girls.
NEW Hygiene Items - full sized containers of toothpaste, body wash, shampoo, and deodorant, as well as toothbrush, soap, washcloth, brush or comb. (Please fit these items into a one-gallon Ziploc bag so they do not leak out into the rest of the backpack.)
Fresh, wrapped candy - no chocolate please, as it may melt; no peanut products because of allergies
NC Missions Offering - September 2021
North Carolina Missions Offering (NCMO)
is a special offering received during the month of September that supports the ministries of Baptists on Mission, Church Planting, mission camps, associational projects and mobilization ministry projects. NCMO is your opportunity to impact lostness as God accomplishes many wonderful things through these various ministries.
The theme for 2021 is "Relief for today. Hope for tomorrow." and
our goal at WEBC is $4500!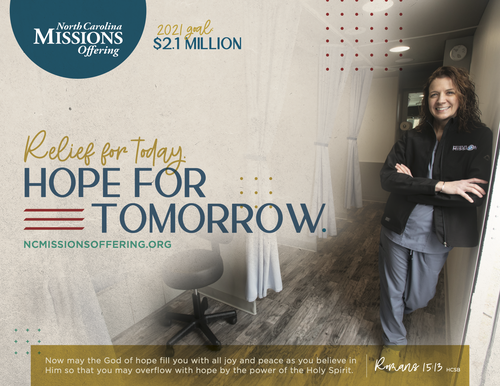 Back to school backpack mission
On Saturday, August 14, 2021, WEBC youth and adults delivered 31 book bags filled with school supplies to Beal Street Square, a low income housing project. The theme for the day was: HOT!!! Despite a heat index of over 100 degrees, our enthusiastic missionaries were up to the task!
The youth went door-to-door inviting residents to join us for an outreach event and praying with residents who requested prayer. With Christian music playing in the background, our adults engaged the residents while the youth entertained the children with sidewalk chalk, bubbles, balls, and other activities. The children were later divided into two groups for Ashley Moseley, Kalee Mayo, and Youth Intern Ryan Holloman to share about Jesus. Dan Bingham led the adults in prayer and delivered the gospel message. Each adult was given a New Testament Bible and a salvation bookmark. Door prizes, donated by our WMU, were given out. Church members passed out the book bags provided by WEBC to the excited children and also helped serve the lunch provided by the Beal Street Square management.
On Sunday, August 8 about 20 volunteers had met and filled those book bags with the items generously donated by our church family. A New Testament Bible and gospel bookmark were included in each book bag. Thank you to all who donated items, filled book bags, and went to Beal Street Square to share the love of Christ.
The Mission/Outreach Team thanks the owners and management of Beal Street Square for allowing us to come and for providing the meal served at the event. Thank you to Pastor Matthew, Tara, Billie, and Ryan for assisting with this ministry.
"We've a story to tell…" BOLD OBEDIENCE includes telling the lost about Jesus on Beal Street in Rocky Mount.
Our WEBC Missions Committee's "Operation In As Much" focus this year will be sharing God's love with the migrant workers who work with local farmers such as Shane Varnell. In addition to sharing the gospel, we plan to give each worker a bag of essential items. Items will be collected during the first four Sundays in May. Collection boxes will be located in the vestibules and outside the Fellowship Hall. All items should be individual sizes that can be packed in large zip-locked bags. You can donate T-shirts (sizes S, M, or L), towels (new or gently used), and washcloths anytime during May.

UPDATE: Thank you to everyone who donated items and their time! We were able to put together over 60 bags for the migrant workers, and had several opportunities to tell them about Jesus!
SEPTEMBER 2020: North Carolina Missions Offering (NCMO) is a special offering received during the month of September that supports the ministries of Baptists on Mission. WEBC Collected: $3,595!
OCTOBER 2020: Sponsored by the NC Baptist on Mission, the Appalachian Christmas Outreach project seeks to meet the physical and spiritual needs of people living in the Appalachian Area. The statewide goal for this outreach is to collect 18,000 backpacks of items to be distributed to the Appalachian children in December 2020. WEBC collected 75 Backpacks!
NOVEMBER 2020: OCC Shoeboxes - WEBC collected #!
DECEMBER 2020 / JANUARY 2021: The Lottie Moon Christmas Offering® is an annual offering collected by believers around the world to support international missions. WEBC Collected: $10,000!